Calling All Nebraska Artists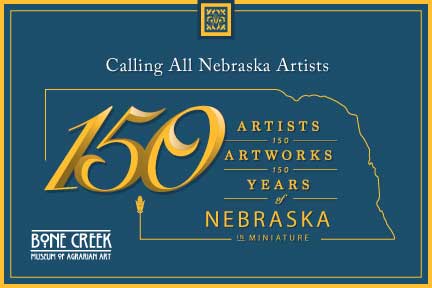 150 Artists, 150 Artworks, 150 Years of Nebraska in Miniature
In honor of Nebraska's sesquicentennial, Bone Creek is planning a large-scale juried exhibition and sale of small works of art for the summer of 2017. Nebraska is filled with many talented visual artists. We want to celebrate them, their craft, and this great state.
We are looking for artists to submit one original piece of agrarian art for exhibition and sale. Submission deadline is February 1, 2017. DEADLINE EXTENDED: February 25, 2017
Eligibility:
Artists are not required to have a current Nebraska address, but preference will be given to Nebraska residents.
Artists with all skill levels are welcome and encouraged to apply.
Artwork must be original and agrarian—relating to the land.
Artists are limited to submit one piece of artwork.
Size of the artwork is limited to a maximum of 11×14" framed for 2D works and 12x12x12" for 3D artworks.
Artwork must be available for sale on July 29, 2017. Artists are responsible to set the sale price.
Bone Creek will retain a 40% commission on the sale. It is our goal that all artwork will be sold.
Student Section:
All skill levels are welcome to apply. This includes high school and collegiate students. If you are a student applying please note that in your email with the submission of the image of your artwork so that you might be included in this Special Exhibition Section.
Submission Guidelines:
1. Please complete the online application form below.
2. Submit the application fee.                                                                                                                                                 Submission fee- $20, non-refundable, paid by check to Bone Creek Art Museum or online here. Click on the Donation button and type in the $20 amount.

3. Email a digital image of artwork (JPEG) by February 25, 2017 to [email protected]
Next Steps:
Artists will be notified by Feb. 28, 2017 if their piece has been selected.
Artists are responsible to deliver artwork by April 15, 2017 (via mail or in person) to the museum:
575 E Street, David City, NE.
Artists will be encouraged to spread the word about the exhibition and their participation.
Exhibition dates:
May 3- July 30, 2017
Reception:
July 29, 2017- Final day of the sale and juried awards will be presented.
For direct inquiries please email: [email protected]
---
SUBMISSION FORM