Visit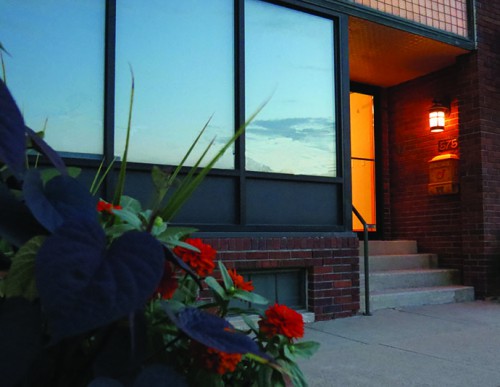 Hours
Wednesday – Saturday 10:00 am – 4:00 pm                                                                 Thursday 5:00 pm – 8:00 pm                                                                                                 Sunday 1:00 pm – 4:00 pm                                                                                                           Closed Mondays, Tuesdays and major holidays*
*Hours may change for special exhibitions.
*New Year's Day, Presidents Day, Easter, Memorial Day, Independence Day, Labor Day, Thanksgiving Day, and Christmas Day
*The museum is also closed when the David City schools are closed due to inclement weather.
Access-Free parking is available on the street in front of the Museum. Visitors may enter the Museum through the front entrance or the rear sculpture garden entrance on the south side of the building. Disabled visitors should use the south entrance where handicap parking is available. The Museum is accessible to the disabled.
General Admissions
Admission is Free.
Group Tours
Group tours are available for schools, students of all ages, community groups and clubs, and private parties. Advanced notice is requested for all groups of ten or more adults, or ten or more students with chaperones. Tours can be held at any time and can be scheduled by calling 402.367.4488.
Policies
Photography– Bone Creek permits photography only for personal use or educational purposes. Permission must be obtained for videotaping, publishing, professional reproduction or any other commercial use. Please do not use a flash, extra lighting, tripods or their equivalents. For the best service, it is recommended that members of the media contact the chief curator prior to arriving for the purpose of news coverage, publicity or information about a particular exhibition or artist. Sketching– Sketching with pencil is permitted in the Museum galleries devoted to the permanent collection and in most special exhibitions. Sketch pads may not exceed 21″ x 26″ x 5″. While sketching, please try not to hinder the normal traffic flow in the galleries.
Map/Directions

Click Map for Driving Directions to Location (I-80 exit #379, north 33 miles on hwy 15 to E Street, right 1.5 blocks)
Rose Motel
1981 North 4th St
David City, NE 68632
(402) 367-3129
Rates: $45
Five minutes or less from Bone Creek Museum
2218 Colfax Street
Schuyler, NE  68661
402.352.9968
Cobblestone Hotel Seward
2575 Progressive Rd, Seward, NE, 68434
1-866-599-6674
Rates: $89 – $110 per night
About 35 to 40 minutes south on highway 15
Holiday Inn Express Columbus
524 East 23rd Street, Columbus, NE 68601
Hotel Reservations : 1 800 315 2621
Hotel Front Desk : 1-402-5642566
Rates: $99 – $126 per night
About 35 to 45 minutes north of Bone Creek Museum